(REVIEW DOES CONTAIN SPOILERS)
I was on Hulu watching the OLTL preview videos, preparing for the revival.  Suddenly something changed on the screen.  An hour and a half before One Life To Live Episode 1 was set to go up...IT WAS UP!  I grabbed my ice tea, grabbed my pop corn I was ready.  
Viki Lord being the first one seen was very fitting.  Her and Clint talking a bit and then revealing the article about Dorian.  Viki is all set to get her boxing gloves on for yet another round with Dorian.  The feud between Viki and Dorian is legendary and another legendary round is brewing.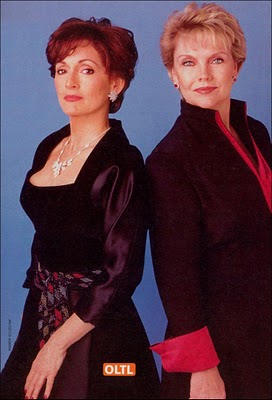 (Viki & Dorian at the start of their feud years ago.)

The next we see David Vickers talking to a camera man who i believe he calls "Liam" sorta made me nervous.  I was thinking WAIT A MINUTE LIAM? ...TELL ME THEY DIDN'T SORAS HIM FROM A NEW BORN TO A 20+ YEAR OLD IN A YEARS TIME. But luckily that was not the case as the next scene featured Natalie and her baby boy Liam.  Natalie tells him shes going to a big party.  
The Buchanan household is seen and yelling is heard. Bo Buchanan is having a major argument with his son Mathew. Why, you ask? "OXY ITS THAT DAMN OXY CRAP" And presents Nora with a baggie of pills. Mathew says its not his, and more or less seemed to move out of his house.  Tea is still so distraught over the loss of her baby.  You can see that she is not mentally stable right now.  She is so torn up over the whole thing. Her baby being born in a cabin, having a crazy woman tell her it was fine, having Todd Manning help switch Tea's real baby with Sam McCall's on General Hospital.  Tea finally found out the truth and clearly it is killing her.  Someone else is feeling the pain to. Poor Dani.  She is clearly aching for some parental guidance but right now her mother is in no condition to give it to her, and her father? Well we'll get to that later.  
I would like to say the first bit of scandali clad ladies is seen early on.  We see Natalie Buchanan in an open robe draped over her and a lovely shot of her in bra and panties.  Now yes I am a guy, who watches and writes about soaps, and people question it but I am as straight as they come and its scenes like that; the lovely Melissa Archer is a perfect example of the beautiful women I tell people about when it comes to the soap opera genre.  She has a babysitter for Liam and is off to party at Blair's club remodeled and renamed.  
(The beautiful Melissa Archer AKA Natalie)
Welcome to Shelter!  Shelter a very loud upbeat nightclub owned by Blair, promoted by Cutter Wentworth.  It appears he has turned over yet another new leaf.  How many leaves does this dude have? He even makes a move on Natalie and the two shared a glance.  Shelter seems to be the new place to be in llanview.  All the kids are there.  Jack who informs his sister, Dani, that she looks like shit. Destiny and Mathew, who have a confrontation over baby Drew.  A baby that according to Destiny, Mathew made a choice to not be a father.  Also in Shelter is the owner Blair, who tries and fails to flirt with a young guy who "Doesn't like cougars" Now Kassie Depaiva is stunning, and looks 25, what guy would turn her down? The answer is a stupid one.  But its enough to make Kassie sad as she looks around her club and as she says to Tea its as if shes babysitting. Even Natalie is too old for Shelter and goes home early and lays seemingly naked under a blanket on her couch.  
But back at Shelter Dani goes to Mathew asking where her stuff is...So it appears young feisty, tough Dani is dealing with her parent issues by doing drugs and it appears to be taking quite the toll on her.  She hides from her mother Tea, and ends up passing out sending Blair, Tea and Todd Manning to her side. Todd scoops her up rushing her out of the club. That's right everybody Todd Manning is back.  But if that's not enough all through the episode a hooded person is seen running around outside and at one point choking someone who is chasing him (or was chasing them I couldn't tell) killing the person.  So this hooded figure makes his way into the club and is seen watching as Dani is carried off.  Who is this man you ask? A not so trapped Victor Lord!
OVERALL:  I have to get use to the new way the show is filmed, but I like it.  The whole cast from the newbie Corbin Blue to the original cast members are all doing spectacular.  My one complaint is the audio during the club scene it seemed a bit off.  I am hoping that the club scene isn't used too much and they use other quieter sets as well.  I like that it is a tiny bit racier having the kids swearing isn't bad its realistic.  Having the ladies showing a bit more skin not too much for this guy.  Having relevant storylines like drugs, and teenage pregnancy makes it an even better soap opera.  I like how the first episode really set the show up great.  Natalie sad missing John obviously, Blair and Todd staring each other down, Dani and her downward spiral, Tea and her grief, and of course Viki and her on again off again feud with Dorian is clearly on again.  This is a must watch for any fan of any online show not just soaps it is spectacular and I am looking forward to more.  I do hope I see some more old timers return.